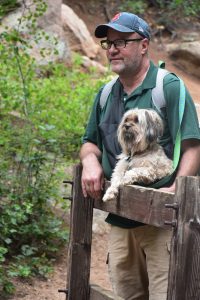 Hello! No formal biography in the third-person here. It's just me, Dan, lover of books, science fiction, peanut butter, and animals – especially dogs. Moose, the cute one in the picture, prefers to take the easy way out when it comes to hiking. He's just one of the many pets we have. Seriously, you name it, and we've probably got it – or at least had it at one time or another. Except snakes, which totally freak me out. Show me a snake; I run. End of story.
Thanks for stopping by. If you enjoy one of my books, please feel free to share! Have a great day … Dan
Do not be anxious about anything, but in every situation, by prayer and petition, with thanksgiving, present your requests to God. And the peace of God, which transcends all understanding, will guard your hearts and your minds in Christ Jesus.
(Philippians 4:6-7 NIV)