From "Has Anyone Seen My Brain?"  – 
"I like to change my name for each century I visit, going alphabetically as I travel through time. I need a good name that starts with 'B.'  I'm looking for something different." She smiled at me. "May I borrow your name?"
"Please, take it." I tried to look at her without staring at the reddened slash across her eye. "Are you Abigail?"
My personal connection to Salem…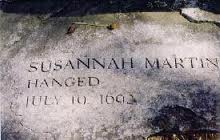 Susannah North Martin was my 9th great grandmother. In 1692, when she was seventy years old, she was found guilty of witchcraft and hanged at or near Gallows Hill in Salem, Massachusetts. Four girls accused Susannah of witchcraft. One of them was eleven-year-old Abigail Williams.
Click or tap here for more information about Susannah
Abigail Williams lived with her uncle Samuel Parris during the time of the Salem Witch Trials. Although it is not known why she lived with the Parris family, most historians assume her parents had died. (It is stated in 'Wikipedia' that Abigail's parents were killed in a raid by Native Americans, but there is no reference or source verifying this. Yeah, I know…it's on the internet, so it must be true.) What IS true: No one knows what happened to Abigail after the trials.
Click or tap here for more information about Abigail